The John Emmons Plan to Bring Back American Manufacturing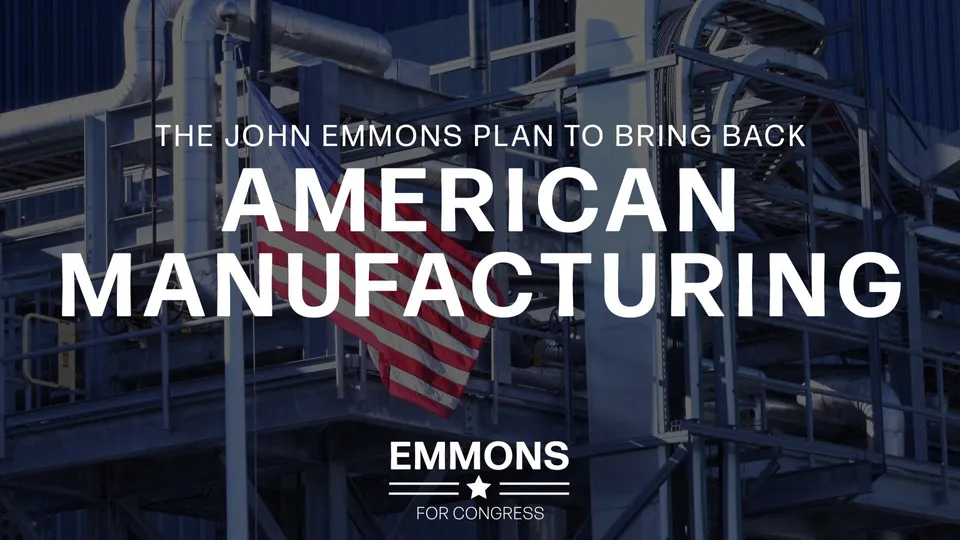 Tuesday, April 21, 2020
West Chester, PA – The coronavirus pandemic has underscored the need to diversify our supply chain and bring manufacturing back to the United States. We've seen first-hand that this is truly a serious national security issue. We have learned the hard way that we can't rely on foreign countries and offshore factories when it comes to maintaining key supply chains, keeping us healthy, protecting our health care professionals, and even feeding our families.
I have spent the past 40 years in manufacturing, managing facilities in seven states and two foreign countries (Germany and India). A chemical engineer by training, I served as a plant manager at Armstrong World Industries, director of operations for Mannington Mills, and director of operations at Interface Performance Materials/Lydall. In addition to looking for ways to improve efficiency, another of my key responsibilities has been risk management. Among many other things, that involves making sure our manufacturing sites have multiple, reliable supply chains.
For our own safety and security, we need a renewed focus on the principle of "Made in America."
Our national effort to bring manufacturing back to the United States should focus on the following industries:
Medical supplies, personal protection equipment, and pharmaceuticals.
Over the past two months, we have learned just how dependent we are on China for our medical supplies. And we have learned how irresponsible China is and how unreliable their products and quality controls can be. Defective test kits were only the tip of the iceberg. We must create the capacity to manufacture the drugs that keep us healthy, the technology in our hospitals, and the equipment that keeps our first responders and medical professionals safe.
The agricultural supply chain, from farm to table.
The United States is a food exporter, but the farmers and ranchers are only one vital cog in the agricultural supply chain. Our food supply relies on farm equipment and equipment parts, animal pharmaceuticals, food processing equipment, trucks, and refrigeration units. We need to ensure that the entire process is made in America and protected.
Rare earth minerals.
China currently holds a near monopoly on the rare earth minerals that are needed for critical components in our electronics, vehicles, and strategic military hardware. We need to open American mines and rare earth processing facilities. We also need to renew efforts to discover new deposits.
Technology, networks, and software applications.
As more Americans work from home, it has placed a renewed focus on the foothold China has within our computers and phones. Some of the most common software applications provide an easily-exploited back door to Chinese access. We need to ensure that our tech is protected. This will require American hardware, software, and cybersecurity being used in our communications backbone.
Energy, and the components that enable energy independence.
America is now energy independent. However, exploration, extraction, and distribution of that energy is dependent on equipment that relies on components made overseas. We need to continue to expand our energy independence, but we need to make sure we can get that energy to businesses and homes within a supply chain that is made in America.
Consumer goods.
Many of our everyday consumer goods are made overseas. While consumer goods may not be critical to our response to the next pandemic, we have turned to our remaining American manufacturers of consumer goods to shift production to important products like face masks and ventilators. If those factories weren't already in place, we would have had no way to easily ramp up production. We should do a better job empowering the American people to make better informed decisions regarding country-of-origin when making purchases.
In order to bring back American manufacturing, I am proposing the following initiatives.
1. Reduce the federal corporate income tax to 15%. American companies pay a higher income tax than companies in most other industrialized nations. Our tax code penalizes companies that keep their facilities here at home. We need to lower taxes.
2. Allow accelerated depreciation schedules for plant and equipment up to and including 100% expensing. Companies that are willing to invest in the United States, expand their facilities here, and hire new employees should receive the tax deduction for capital investments immediately.
3. Remove red tape that holds up the approval of new products. American entrepreneurs and companies are the best innovators in the world. We need to streamline the regulatory process (get the government out of the way) and let them get new products to market faster. We have seen many examples of this as part of the COVID-19 rapid response.
4. Provide for labeling transparency – including for ingredients, subcomponents, and parts. American consumers should be empowered to make more informed choices about the products they buy. Something labeled as "Made in America" should be made in America – not just an assembly of foreign-made components.
5. Launch a new public awareness campaign about the importance of American manufacturing. We need to create a new national spirit of pride in our manufacturing base. Let's support and commend the companies that are trying to do the right thing.
Over the coming weeks and months, our economy will open back up, people will get back to work, and our nation will recover. This is America. Our country was built by explorers, risk-takers, innovators, and entrepreneurs. We've overcome tough challenges in the past. We will overcome this. As we recover, we need to better prepare our country and our economy for the next challenges.
###