John Emmons Releases Plan to Bring
Back American Manufacturing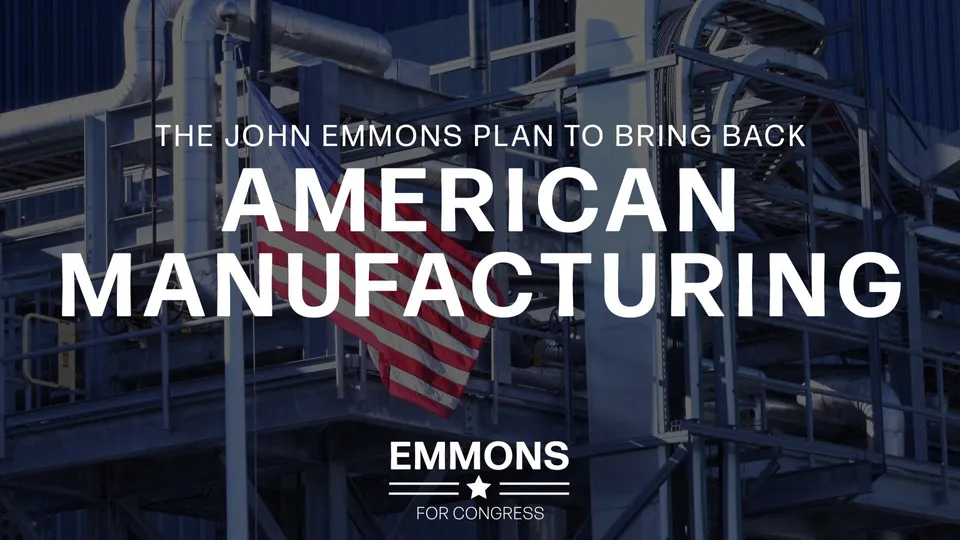 Tuesday, April 21, 2020
West Chester, PA – John Emmons, Republican candidate for Congress in Pennsylvania's 6th Congressional District, today released his plan to bring back American manufacturing.
Emmons has 40 years' experience in manufacturing, managing facilities in seven states and two foreign countries (Germany and India). A chemical engineer by training, Emmons served as a plant manager at Armstrong World Industries, director of operations for Mannington Mills, and director of operations at Interface Performance Materials/Lydall.
Emmons stated:
"The coronavirus pandemic has underscored the need to diversify our supply chain and bring manufacturing back to the United States. We've seen first-hand that this is truly a serious national security issue. We have learned the hard way that we can't rely on foreign countries and offshore factories when it comes to maintaining key supply chains, keeping us healthy, protecting our health care professionals, and even feeding our families. For our own safety and security, we need a renewed focus on the principle of 'Made in America.'
"Bringing back American manufacturing will bring back high quality jobs to our country at a time that they are desperately needed by many of our workers."
The John Emmons Plan to Bring Back American Manufacturing focuses on six key industries:
– Medical supplies, personal protection equipment, and pharmaceuticals;
– The agricultural supply chain, from farm to table;
– Rare earth minerals;
– Technology, networks, and software applications;
– Energy, and the components that enable energy independence; and
– Consumer goods.
The plan calls for:
1. Reducing the federal corporate income tax to 15%.
2. Allowing accelerated depreciation schedules for plant and equipment up to and including 100% expensing.
3. Removing red tape that holds up the approval of new products.
4. Providing for labeling transparency – including for ingredients, subcomponents, and parts.
5. Launching a new public awareness campaign about the importance of American manufacturing.
The full plan can be found here.
###